Welcome to the Sparklets Collectors' Guide.
The Guide uniquely covers all Sparklets products made during the period 1896-1981, the first Sparklets Price Guide and lots more! Of course, the stars are the iconic Sparklets Soda Syphons. We hope you enjoy exploring the site, and welcome any feedback.
****** Click here to view the latest updates! ******
Glass/Early metal 1896-1955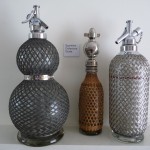 The first Sparklets syphon was made in 1896. As it contained water 'gassed' by the Sparklet bulb, it was covered in wicker as a safety measure. All subsequent glass syphons were covered in a wire mesh. The Glass range has 6 different models, with the later Standard D (right)  being the one you are most likely to see today. Look for either the Standard model, or the more expensive De Luxe in chrome or silver plate with syphon and stand combined.  
Streamline (USA) 1936-1950.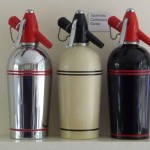 The first metal syphons were made by Sparklets Corporation in the USA. All had 3 coloured bands, and were either finished in chromium plate or coloured enamel. They are instantly recognisable by the plastic cover on the sparklets inlet and by the chain attaching it to the syphon head. Base Markings: 'Made in USA' or 'Sparklets Corporation New York'
Streamline (UK) 1946-1965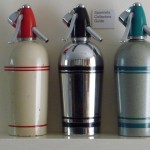 'Streamline' was the first metal model produced in the UK after the Czeckoslovakian glass used to make the Standard D ceased to be available following the second world war. They came with 3 or 4 coloured bands and were finished in chromium plate, hammered grey enamel and smooth enamel. 'Streamline' defined the Sparklets syphon. Look out for the chrome spout! Base Markings: Made in England
Streamline Deluxe 1959-1966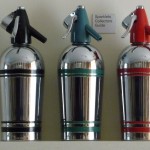 The final run of chromium plate Streamline. The range has 3 different colour bands, black, red and green, with an all plastic colour matching head. Base markings: SG2
Hostmaster Mk1 1957-1959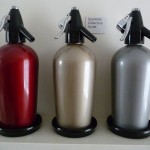 The first of the coloured syphons. Very limited 2 year run before it evolved in to the taller Hostmaster Mk2. This model is difficult to find. I have 5 colours now, but they took a number of years to find. Base markings: SC/Z  
Hostmaster Mk2 1959-1968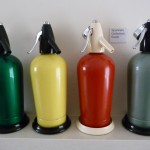 Produced in high volumes when the sale of the syphons really took off in the 1960s. There are 10 colours to find and also a rare variant with 3 rings near the top of the body, which I have found in 2 colours so far. Base markings: SC1/Z
Globemaster 1960-1980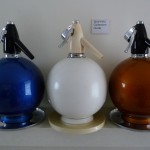 The iconic round Globemaster is twice the capacity of its predecessors and needs 2 sparklets bulbs to charge it. It had a new head with a longer spout. Produced in 7 glorious colours and white! I have only seen one white one, so assume not many were sold. Base markings: SE/W.
Stainless Steel Mk2 1963-1967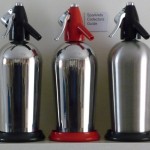 A very stylish stainless steel model, finished in mirror or satin, with either red or black matching head and drip tray. Base marking: SF/Z or SB/Z
New Streamline 1965-?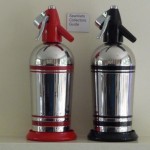 A stainless steel Streamline which looks identical to the Chromium Plate Streamline Deluxe. Base markings tell it apart. Base markings: SF/Z
Hostmaster Mk3 1967-1981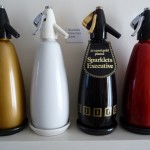 When we think of a Sparklets syphon, the ruby Hostmaster Mk3 is the image in our minds, and probably the biggest seller. This range has the teardrop shape. Range incudes the Executive. A special model, all black with gold handle and gold squares on the body. Base markings: SHU
Aquarius Mk3 1967-1981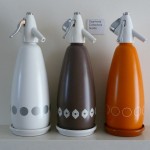 This range has the '70's look! 3 models had circles design, and 3 models had squares design. All were in a funky 1970's colour. Base markings: SHU
Stainless Steel Mk3 1967-1981
The last syphon range which included bodies in satin and mirror stainless, and the President model, in gold plate. The mirror stainless model is named the Ambassador, and there was a special Jubilee edition in satin stainless. Base markings: SJU