Latest – New items added and site changes
June 2022 – Site is being continually updated. 4 postcards added today.
February 2022 – I'm still here! New section added 'Glass (USA & Europe)'. This section is for the glass syphons made by Sparklets Corporation in             New York, and also for syphons made specifically for European countries, like France and Spain.
January 2020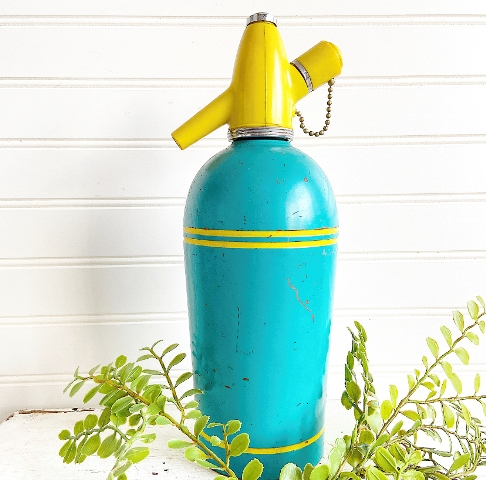 Users are still finding unlisted models…..
This turquoise and yellow model was certainly vibrant for it's time!
It is a Streamline model made by Sparklets Corporation in USA.
Click on the pic to see more info and the other USA variants.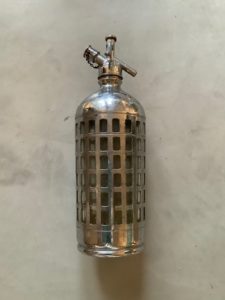 A site user kindly sent me this pic of a syphon recently purchased in France. Made by Sparklets, London, but marked CARAFE.
I am guessing it was made c1945-1955. Not see one before. If you have one, or can provide any information,  please email me on the contact page.
December 2018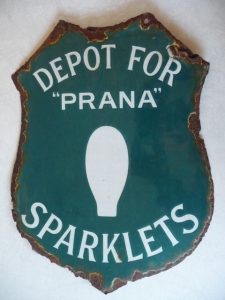 Just found this sign for the first time.
Over 100 years old, so not surprising it is a bit rusty around the edges!
Click on it to see my other signs.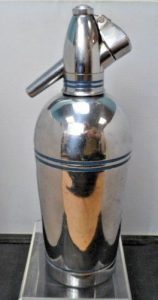 It's rare to come across new variants not already listed on this site, but here is a 'Chrome top' with blue bands, as opposed to the black band and red band variants previously listed.
January 2018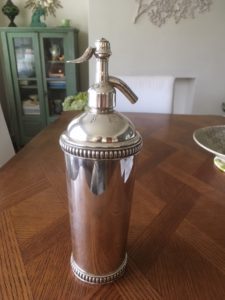 A site user sent me an interesting picture.
The gas valve is underneath the base!
If anyone can tell me anything about this syphon, please get in touch via the contacts page.
Sept 2017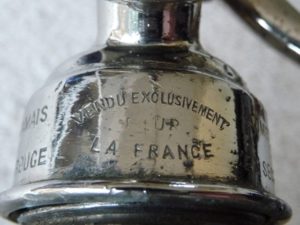 Sparklets 'B' Syphon made to sell in France only.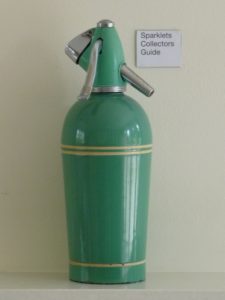 A new colour I have not seen before……green enamelled body with cream bands.
Colours are a reverse of the cream body model with green bands.
April 2017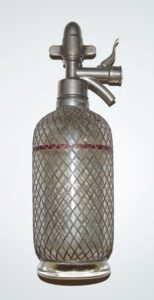 Here is the 1903 syphon, the earliest Aerator's syphon found in Canada with the catalogue below.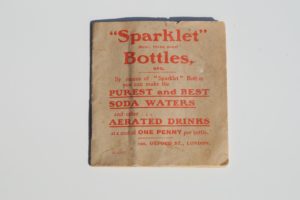 Catalogue dated 20/2/1902!
A site user from Germany kindly shared this great find with us.
The catalogue came with a previously unlisted syphon from 1903. The information will enable me to complete many model names and details and to add unlisted models. Site updates will follow soon…….
February 2017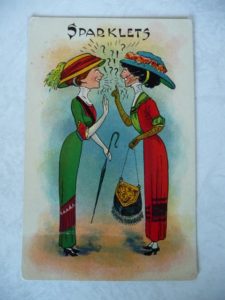 Great period postcard c1910.
"National" series postcard, not produced by a syphon manufacturer.
November 2016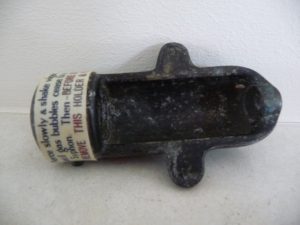 I believe this is a rare transitional bulb holder from 1934 when the non-return gas valves were introduced. An instruction panel was screwed to the earlier plain 'rocket' bulb holder and likely was done to use up old stock before a new bulb holder was manufactured. The instructions make it clear that the bulb holder must be removed from the syphon once charging has taken place. Prior to 1934, the bulb holder stayed attached to the syphon during use.
August 2016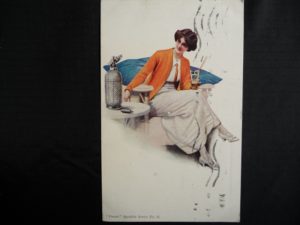 Another postcard found. These postcards really set the scene over 100 years ago.
This one says it is No.14 in the ' "Prana" Sparklet series', so clearly there are lots more to find. Please contact me if you find any not on the site.
June 2016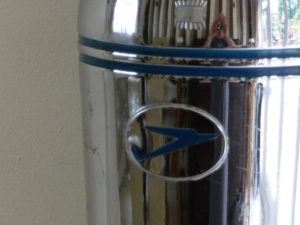 Well this is a great find!
Early Streamline (UK) with logo and special colour.
This was made specifically for B.O.A.C. for use on passenger aeroplanes.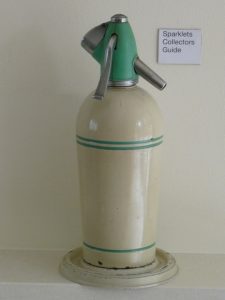 Another early Streamline (UK) in cream enamel.
Have had the red band one listed for a while, but have now found it also came in green
March 2016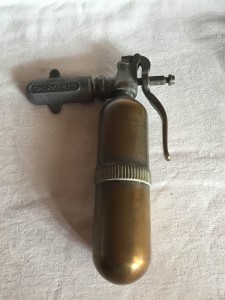 Early item sent in by site user. Never seen one like this before.
Please email us on the contacts page if you know what it is.
Update  Aug 2017 – It is a 1920's horticultural spray gun
Update Sep 2017 – It is a c1949 Aerosol Projector (from advert)
February 2016 – Just when you thought you had seen everything……….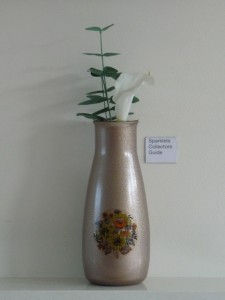 It's the 'Sparklets Vase'!
…..in hammered gold finish complete with 'flowers' transfer.
January 2016 – missing link!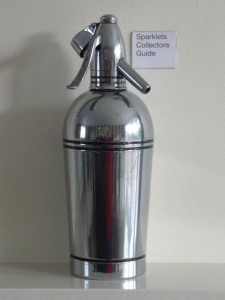 Have recently acquired this 3 black band 'Chrome top' syphon, and it has now joined its' brother with the red bands!
I do not know when they were made exactly as I have not found them on any adverts. I am assuming that they are the first of the UK '3 band' models.
November 2015 – "The Prana" syphon charger
Both the brass and chrome plate versions have been added.
Aug 2015 – Twisted lever!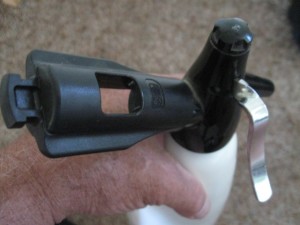 Pictures sent in by SCG user.
Hostmaster Mk3 with different head?
Anyone got one of these?
Update June 2016 – seems to be a USA model.
Jly 2015 – I love this postcard recently acquired!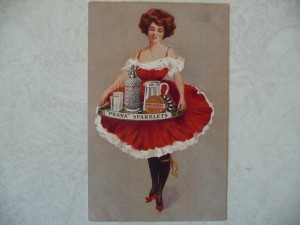 Lady is showing the 'Prana Sparklets' syphon and bulbs (size B) in c1913. See the Postcards section for more great postcards.
Jun 2015 – Prices updated to reflect recent sales values.
May 2015 – Super find in Australia! Another new product…… the Sparklets Maxator System.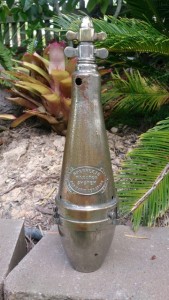 Please contact me if you have seen or know any information about the history of this item.
Mar 2015 – Great new item acquired! Aerators Trade Sample casting made about 1910.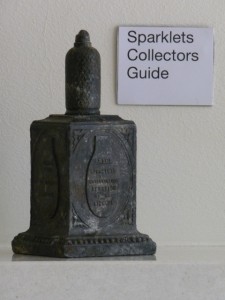 Here it is!
Please click photo for more information.
Have you ever seen one? Please drop me a line on the 'Contact' page.
Dec 2014 – New discovery! I purchased a Hostmaster Mk2 with 3 rings in Old Gold. SCG/H23-OG.
Nov 2014 – CO2 Snow Outfits added to the 'Medical' section.
Sep 2014 – 2 new syphons! Hostmaster Mk1 in Emerald Green, and 'B.E.A' Hostmaster Mk2 in Dove Grey. Glass syphon values updated.
Sep 2014 – Dentistry and Home Brew sections completed, 2 new syphons added to the 'Streamline (USA)' section +more adverts!
Aug 2014 – Early metal aerating flask reported to me by a user in Mexico City. See SCG/P04A in 'Glass/Early Metal' section.
Aug 2014 – Previously unknown to me, very early wicker covered syphon added, SCG/P02-WK. See 'Glass/Early Metal' section.
Jun 2014 – This changes page added to help you keep track of any updates made to the site!
Jun 2014 –  2 new Globemasters added! Champagne and Diamond Blue. I had not found any new colours for years and then 2 turn up in the same week.
Apr 2014 – Lots more syphon adverts added…see the MARKETING menu item
Feb 2014 – BEER TAP section completed